Introducing the FLUIDLINK® i400 Intelligent Laboratory Pump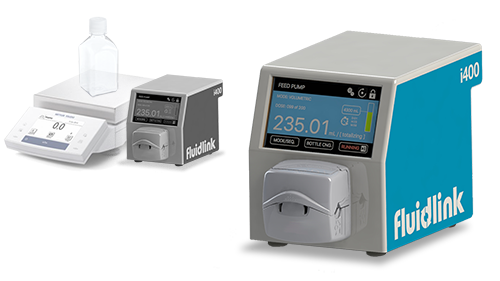 Powerful. Flexible. Intuitive.
Introducing the FLUIDLINK® i400 Intelligent Laboratory Pump - bringing unprecedented control over the most demanding fluid delivery processes. Experience the i400, acclaimed for it's compact size, feature-rich and cleverly simplified user interface, and unmatched automation connectivity. Our industry-driven design and operator-focused engineering deliver the tools you need to convert your greatest process challenges into a seamless multidimensional workflow.
Intuitive Operation - large informative icon-driven touchscreen interface, delivers the ultimate in process visibility and ease-of-use.
Unlimited Scheduling - run multiple independent schedule-driven dispensing sequences, and trigger any series of linked sequences for infinite possibilities.
Unprecedented Accuracy - directly connecting any weight scale* enables the unbeatable accuracy of the i400's Gravimetric Delivery functionality.
Extensive Range - deliver individual bolus dosing in units as low as 0.01 mL, and continuous flow rates from 0.001mL to 330.0 mL/min.
Speed Control - 000.01- 400.00 RPM (40,000:1) with accuracy of ±0.1% full-scale; the highest turn-down ratio in it's class!
Compact Size - H 5.625" x W 4.864" x D 6.5" stackable footprint - conserves valuable work surface space.
Durability - NEMA 4 / IP66 rating for use in industrial spray-down wash-down environments.
Never Run Empty! - supply bottle change-out forecasting displays how long your supply source will last, based on your dispensing schedule, assuring your process won't run dry during off-hours.
Industrial Automation - built-in support for EtherNet/IP (Industrial Protocol).
Investment Protection - user-upgradable operating software for the addition of future functionality.
FLUIDLINK® i400 Intelligent Laboratory Pump brochure
See how the FLUIDLINK® i400 and it's many exclusive features can be configured to solve your research and manufacturing needs.

*Weight scale must support MT-SICS Command Protocol and be equipped with an RS-232 communications interface.